Skinheads em 'The Skatalites' - O que os jornais diseram!
Realizou-se no passado mês de Abril o
Festival Oeiras Reggae 2005
. A bandas presentes foram muitas. Aquelas que mais interesavam ao público
Skinhead
eram sem dúvida
Max Romeo
que entre muitos hits deliciou o público com o clássico 'Jamaica Ska' e os 'Grandes'
The Skatalites
.
Entre as 3.500 - 4.000 pessoas que assitiram ao festival encontrava-se um bom grupo de

Skinheads
. Segundo alguns espectadores, estariam cerca de 60-70 cabeças rapadas a assistir ao concerto. Como não estavam todos juntos era dificil contabilizar.
Foram vistos grupos de 20 a 30 Skins na zona do concerto
. Alturas houve em que a zona do
bar estava 'quase tomada de assalto' pelos vários grupos de skins presentes
. Segundo declarações um skin presente no concerto 'uma das vezes que vim da zona do bar e olhei para trás até metia impressão.
Só se via cabeças rapadas e suspensórios
. Eram às dezenas'. Por altura da actuação dos 'The Skatalites'
os Skinheads ocuparam afincadamente as filas da frente.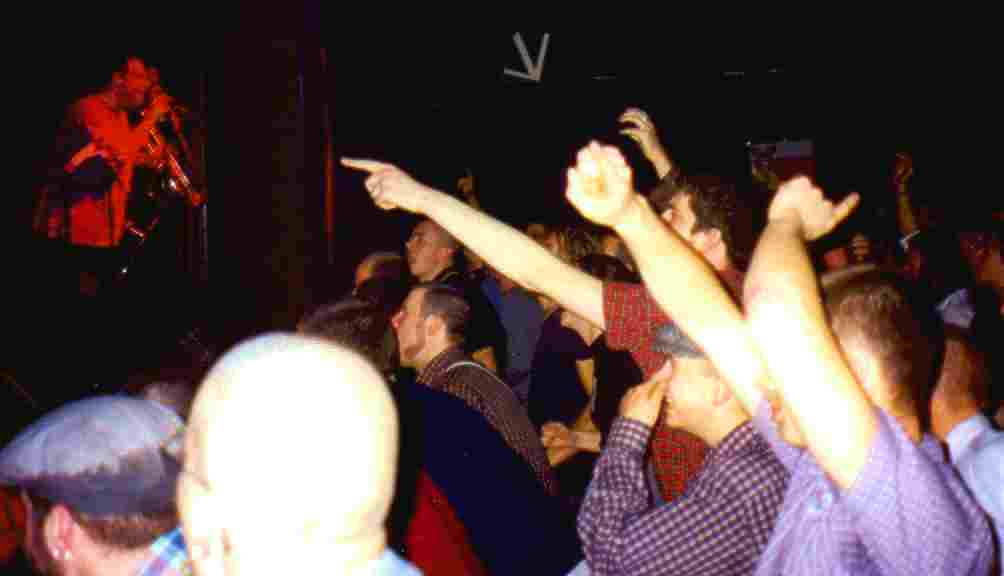 A presença dos Skinheads não passou despercebida
a ninguém.
Alguns orgãos de informação realçaram a presença deste fanáticos seguidores dos 'The Skatalites'
. Seguidamente irei trancrever as linhas de 3 públicações: '
Expresso
', '
Blitz
' e '
Diário Digital
'. Não sei se mais algum orgão de informação divulgou a presença dos Skinheads. O que é dito nestes jornais é por vezes discutível, mas como saiu é como aqui será transcrito.
O
Expresso
dedicou duas páginas ao concerto e referiu-se aos skins pesentes nestes termos:
'Com estatuto de lenda viva - a comemorar 41 anos - os Skatalites eram os cabeças de cartaz e, a avaliar, não terão desiludido os admiradores, dentre os quais

a tribo skinhead

, que não falha um concerto do grupo. É o caso de João, lisboeta. Do seu discurso poder-se-ia ter advinhado o facto de ser estudante de Marketing e Publicidade. ''Além dos The Slackers, que são da nova escola do ska, os Skatalites são os meus preferidos. São originadores do movimento ska e rudeboy que nasceu na Jamaica e deu origem ao movimento skinhead, transferido para Inglaterra pelos imigrantes jamaicanos. Do reggae transportado pelos jamaicanos e da cena r&b nasceu o movimento ska''. Após esta justificação histórica, fez questão de demarcar-se, a si e aos skinheads presentes, do ramo neonazi: ''Não somos racistas''.
Comentário do Blog
: O jornalista apelida os skinheads de tribo. Não são uma tribo, mas sim uma cultura com cerca de 40 anos de exitência. Em relação ao que o entrevistado diz temos algumas coisas a esclarecer. Na nossa opinião os The Slackers não são uma banda da nova escola do Ska. A banda tem pelo menos 10 anos e o som que tocam é bastante tradicional. O ska e os rude boys não deram origem aos skinheads. Os skinheads que têm a sua origem em Inglaterra tornaram-se os maiores ouvintes e seguidores da música ska trazida pelos imigrantes jamaicanos para o Reino Unido. Os skinheads têm as suas raízes nos Mods ingleses (mais propriamente nos hard-mods) e na roupa, música e alguns tiques verbais, corporais e de classe dos Rude Boys jamaicanos. O que foi transferido para inglaterra pelos imigrantes jamaicanos não foi o movimento skinhead, mas sim algumas particularidades que compõem um skinhead. O ska não nasceu do reggae e do r&b. O reggae é que deriva do ska. E não existe um movimento ska. Existe sim um estilo musical apelidado de ska que é especialmete acarinhado por alguns cultos e faz parte das raizes da cultura skinhead.
O
Blitz
dedicou um capa do jornal e reportagem especial aos 'The Skatalites' e dedicou mais uma página de outro número do jornal ao concerto. Sobre os Skinheads disse:
'Para quem pudesse ter dúvidas em relação à existência de público em solo português para um festival dedicado à música da Jamaica, cruza-se harmoniosamente com freaks convictos, betos radicais, curiosos fumadores de coisa adocicada e

skinheads de esquerda

deverá ser suficiente para ver a luz'
Comentário do blog
: OK, só me vou referir à parte quando o jornalista diz 'skinheads de esquerda'. Pois é sempre mais fácil do que dizer simplesmente skinheads. É mais soft! São realmente skinheads, mas prontos a gente desculpa porque são de esquerda. É um pouco aquele paleio politicamente correcto!
Digo de certeza que parte dos skinheads presentes no concerto seriam de esquerda. Mas de certeza que nem todos eram. De certeza que os havia mais libertários, apoliíticos, mais conservadores, tradicionalistas, calhando até anti-comunistas. E já agora a que esquerda pertenceriam? Seriam marxistas, do PC, do BE, votam no PS, ou serão de esquerda independente e nem votam. E seriam patriotas e nacionaliatas? E se fossem poderiam ser de esquerda? E se alguns fossem católicos? Ainda eram de esquerda ou seriam de direita?
Vamos lá por as coisas assim. Eram skinheads! pronto! Se o jornalista perguntase a um dos skins presentes qual a sua tendência política como skinhead e ele respondese que era de esquerda, então a entrevistadora poderia afirmar que aquele skinhead era de esquerda! Só para concluir que não se deve generalizar!
O
Diário Digital
fez uma notícia em a dado momento se pode ler:
'
A falta evidente do respeitoso Lloyd Brevett tentou ser colmatada com uma performance bem conseguida de toda a banda, em especial do baterista Lloyd Knibb que conseguiu servir de mola impolsionadora a grande parte do espectáculo. «Latin Goes Ska», «Rivers of Babylon» ou «Phoenix City» foram cantadas por esófagos entupidos de espuma dos muitos

rude boys

presentes no concerto (com direito a uma comissão vinda da Galiza).'
C
omentário do Blog

: Aqui os Skinheads são apelidados de Rude Boys. Que eu saiba em Portugal não existe movimento Rude Boy. Há alguns fans da música ska e alguns simpatizante do cultura skin que se vestem ao estilo Rude Boy para irem a uma festa ou concerto ska. São muito poucos! E neste concerto não se viam! Pronto! É outra maneira de não dizer skinheads!
The Skatalites em Sines
Da primeira primeira vez que os The Skatalites actuaram em terras lusitanas (Festival música do mundo em Sines) acorreram a terras alentejanas quase 10 mil fans da banda. Estive nesse memorável concerto e a presença de Skinheads também se fazia notar. Quem passeava por Sines não deixava de poder reparar nos vários grupos de jovens com cabelo muito curto, suspensórios, polos fred perry, doc martens, que paseavam pela zona e ocupavam algumas das esplanadas dessa bonita terra alentejana. Não estavam todos juntos. Apessar de não se poder ver toda a zona do espectáculo ao promenor, tal era a massa humana presente, contabilizei por alto pelos menos meia centena de skins. Durante o concerto um Skinhead invadiu o palco e tentou dar um fanzine ao vocalista da banda. O membro dos 'The Skatalites' não percebeu a honra e devoção que aquele skin tinha. O vocalista ficou como que baralhado e não aceitou a oferta. No final de contas estava a meio de um espectáculo. O Skin um pouco ofendido deitou a fanzine para o palco e saiu entristecido. Quando tudo parecia ter passado, eis que um dos membros da banda corre o palco apanha a fanzine (que mais tarde consegui arranjar e que se não me engano se intitulava 'Smart & Violent' ou 'Smart & Clean' e que tinha uma rapariga Skinhead na capa) e após dar uma vista de olhos, e ver bem do que se tratava, beijou a revista e guardou-a. Aqui estava um gesto de respeito por um artista jamaicano para com aqueles que sempre os apoiaram ao longo da sua carreira: os Skinheads. Ficou tudo em bem e em pratos limpos. Recordo-me também no fim do espectáculo de uma louca e forçada invasão de palco. Uma das razões teria sido a atitude de um segurança que maltratou uma jovem que embriagada percoria o palco e por pouco não caia em cima do 'velhito' vocalista. O segurança quando tentou fazer o seu trabalho não foi cuidadoso o que caiu mal no público presente. A agressão verbal do público não se fez esperar e a chuva de latas e outros objectos em direção ao segurança foi o mote para a invasão. Era ver uma turba de freaks, rastas, skinheads e demais espectadores a ocupar o palco. O segurança perseguido teve de fugir e refugiar-se sabe-se lá onde! No meio desta pequena festa/confusão e em pleno palco era ver um nutrido grupo de Skinheads com uma grande bandeira com um casco troiano. Seria um tributo à editora Trojan Records que editou vários dos trabalhos dos 'The Skatalites' ou um símbolo da Sharp (fação de skinheads que realça fortemente a sua oposição ao racismo). Não lhes fui perguntar!Mas isto apenas foram uns pequenos aperitivos de um belissímo espectáculo de Ska! Foi também bonito ver um jovem Rude Boy. Sim! Completamente trajado ao melhor estilo Gangster: de loafers, pork-pie e fatinho com calça curta e meia branca a dançar um belo ska com a uma das vocalista da banda.

Fonte: Expresso, Blitz, Diário Digital e leitores do Blog.
Etiquetas: Concerto, Review, Skatalites, Skinhead